Since 1979 Comall International has been a reference point in the design and production of pneumatic punching machines for aluminium profiles.
The company offers a wide range of extremely versatile and high performance punching machines, capable of satisfying the needs of suppliers and extrusion specialists all over the world.
Active collaboration with these entities has enabled Comall International to specialise in the punching machine sector and continue to offer innovative technological solutions.
Comall International offers advanced technological solutions aimed at optimising manufacturing processes
Since 2017 Comall International has been the company within the Group dedicated to the manufacture and sale of systems for the assembly of thermally insulated profiles. Thanks to Fom Industrie's consolidated and highly regarded thirty year industrial plan this new manufacturing adventure is coming into being.
A constant commitment to research and technological innovation, together with our assembly systems, made in Italy, allow maximisation of productivity while minimising working dimensions and manpower.
Comall founded Comall France to respond better to the needs of the French, Belgian and North European markets.
The presence of Comall France guarantees Comall quality in these geographical areas. Technical assistance and installation of the machines is carried out by staff trained at our parent company in Reggio Emilia.
The French company specialises in the automatic punches sector, for which it can also count on its own R&D department.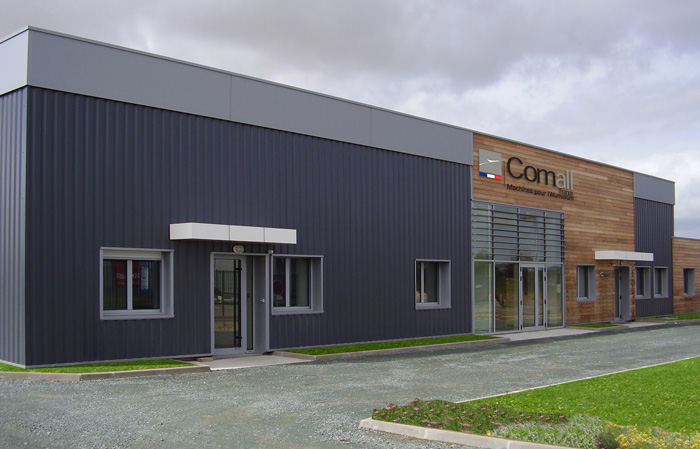 Since 1989, when the first branch was purchased, Fom Industrie has expanded on the world market, investing in businesses with innovative know-how.
The Fom Group currently consists of 9 manufacturing companies, 10 sales branches worldwide and 55 official distributors. This network of businesses is structured to allow 360 degree management of all phases in the window manufacturing industry supply chain. It is able to offer additional and complementary services for the machines supplied, such as workshop logistics and specific software applications developed entirely by its own software house.